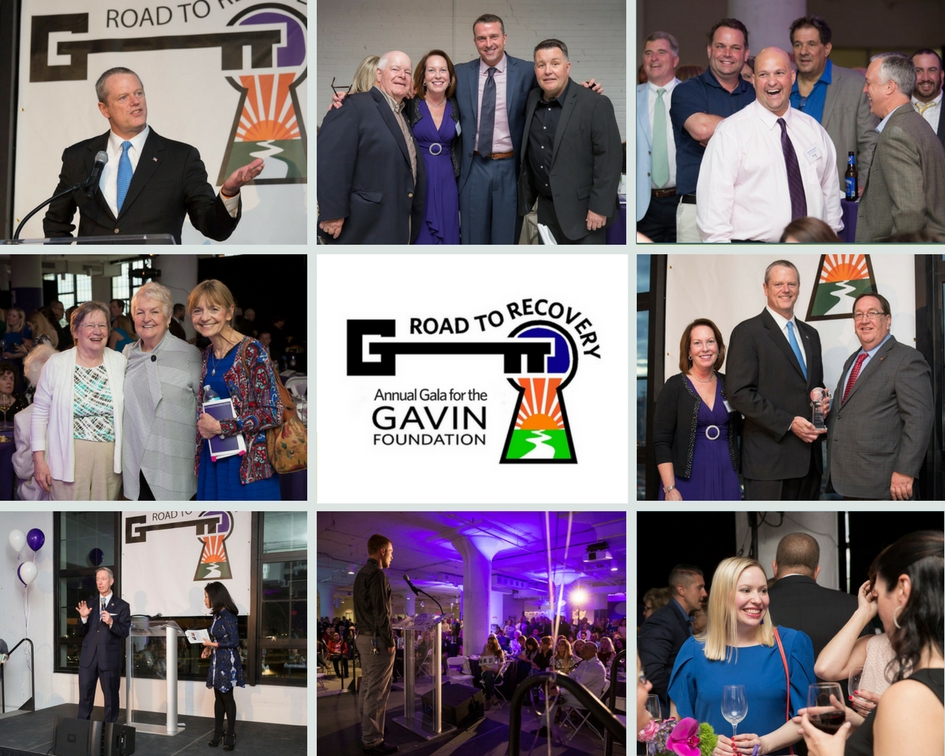 On May 11th, friends of the Gavin Foundation and Creative Office Pavilion joined together at the Innovation and Design Building in South Boston for the Road to Recovery Gala; a Benefit for the Gavin Foundation hosted by Creative Office Pavilion.
Governor Charlie Baker was presented with the Man of the Year Award, and Dropkick Murphys' Ken Casey received the Caring Hearts Award for their support of the mission of the Gavin Foundation. Honored guests included Congressman Stephen Lynch, and former Boston Celtics player Chris Herren. Chris graciously donated his time to speak at the sponsors reception where he shared his story of recovery to an audience that also included volunteers, staff and their teen children.
The Gavin Foundation is grateful for the friendship extended by the team at Creative Office Pavilion, and honored to have been chosen as a partner and beneficiary of the event. Creative Office Pavilion truly believes collaboration with the business community is important in addressing the opioid epidemic. The need for accessible, cost-effective addiction treatment and recovery options in the community is vital. The success of the Road to Recovery Gala is a direct result of private businesses, unions, community organizations, political leaders, and individuals all committed to ensuring the availability of quality treatment for those in need. It has been a pleasure to join forces in the effort to fight opioid addiction in Massachusetts.
We are thankful for the event sponsors and auction donors; the event would not have been possible without you. We are grateful for the time, energy and good cheer of the many terrific volunteers, members of the Gala Committee, and fellow Gala Committee Chairs; Jamestown Vice President Kristan McLaughlin, Gavin Foundation Board Chairman Willy Ostiguy, and Gavin Foundation Board Vice Chairman Brian Nee. It has been truly inspirational working with you all.
We thank those in attendance for joining us; we are grateful you came to celebrate Recovery and raise awareness and funds for the Gavin Foundation programs. If you missed us this year, we hope to see you soon, and are grateful to have you as part of our community. We appreciate your recognition and support for the mission of the Gavin Foundation. It is truly amazing to see how much we can accomplish when we all work together. You make fulfilling the mission of the Gavin Foundation possible.